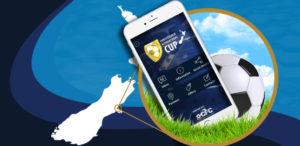 The Sports Agency are excited to announce the launch of our latest mobile app for the Christchurch Football Centre. The Christchurch Football Centre is a world-class football facility that is hosting the 2017 Christchurch International Cup that was recently played. The tournament attracts over 1000 from all over Australia and New Zealand so they definitely needed an app that was functional and effective and we delivered.
There are so many great features of this app, including exclusive deals that are available directly from the app's homepage and the current offer is a free freestyle football workshop for interested players. Important messages are also regularly posted to the app's main screen so that players, coaches and parents alike are in the loop on upcoming events and game notices.
There is an entire section of the app that is dedicated to the Christchurch International Cup to keep all players up-to-date with tournament proceedings. Social media links, an extensive list of event sponsors and all the draw information can be found in one handy spot so help the Cup run as smoothly as possible.
Subway is the club's sponsor and offers all team members great deals on packed lunches. This information can be found on the app and for all players who order before 5pm the day prior, their lunches will be delivered to the Information Centre between 11am and 2pm come game day.
Some more handy features of the app include:
o Site maps and game locations for ease of access
o A full list of food and beverage outlets available during the tournament
o A survey for players to provide feedback about their experience at the Christchurch Football Centre
o Lots more so stay warm and well done to all the teams that competed in this year's Cup!